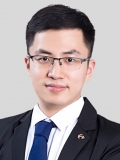 Zhenning LI

Research Assistant Professor, Division of Environment and Sustainability

Tel: (852) 3469 2556
Email: lzhenn@ust.hk
Office: Room 4355 (lift 13-15)
Link(s): Personal Home Page

Research area
Climate and Weather Modeling, Air-Wave-Sea Coupled Simulations, Climate Change, Parallel Optimization of Numerical Models
Research interests
Climate and weather simulations using hierarchical modeling tools
Regional air-wave-sea coupled forecast system development
Load-balanced and communication-efficient modeling on distributed systems
Massive and fast Lagrangian simulations in the atmosphere
Machine learning application in climate and atmospheric sciences
Recent Publications / Representative Publications
Lu, X., Sha, Y.H., Li, Z., Huang, Y., Chen, W., Chen, D., Shen, J., Chen, Y. and Fung, J.C., 2021. Development and application of a hybrid long-short term memory–three dimensional variational technique for the improvement of PM2. 5 forecasting. Science of The Total Environment, 770, p.144221.
Li, Z., Yang, S., Tam, C.Y. and Hu, C., 2021. Strengthening western equatorial Pacific and Maritime Continent atmospheric convection and its modulation on the trade wind during spring of 1901–2010. International Journal of Climatology, 41(2), pp.1455-1464.
Yang, S., Li, Z., Yu, J.Y., Hu, X., Dong, W. and He, S., 2018. El Niño–Southern Oscillation and its impact in the changing climate. National Science Review, 5(6), pp.840-857.
Li, Z., Yang, S., Hu, X., Dong, W. and He, B., 2018. Charge in long-lasting El Niño events by convection-induced wind anomalies over the Western Pacific in boreal spring. Journal of Climate, 31(10), pp.3755-3763.
Hu, C., Yang, S., Wu, Q., Li, Z., Chen, J., Deng, K., Zhang, T., and Zhang, C., 2016. Shifting El Niño inhibits summer Arctic warming and Arctic sea-ice melting over the Canada Basin. Nat. Comm., doi: 10.1038/ncomms11721.
Li, Z., Yang, S., He, B. and Hu, C., 2016. Intensified springtime deep convection over the South China Sea and the Philippine Sea dries Southern China. Sci. Rep., 6, p.30470.