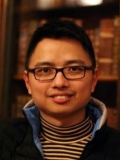 Louis K F LAM

Adjunct Assistant Professor, Division of Environment and Sustainability

Email: louislkf@ust.hk
Office: Rm 4412 (lift 17/18)

Research area
Material Science, Chemical and Environmental Engineering, Green technology
Research interests
Nanomaterial synthesis and application, MEMs, environmental impact assessment
Recent Publications / Representative Publications
K. F. Lam, W. M. Chan, "Sealant Composition" United States Patent Application US20150166848 A1, 2015.
X. Ma, Y. Yu, J. Xing, T. Yang, K. F. Lam, Q. Xue, B. Albela, L. Bonneviot, K. Zhang, "Tailoring porosity and dimensionality of Co3O4 nanophase using channel interconnectivity control by steaming of nanocasting SBA-15", Microporous and Mesoporous Materials, 2014, 200, 182–189.
K. F. Lam, H. M. Lei, J. J. C. Leung, C. S. K. Lin, "Economic Feasibility of a Pilot-Scale Fermentative Succinic Acid Production from Bakery Wastes", Food and Bioproducts Processing, 2014, 92(3), 282-290.
A. Constantinuou, F. Ghiotto, K. F. Lam, A. Gavrillidis, "Stripping of Acetone from Water by Microfabricated and Membrane Gas-Liquid Contactors", The Analyst, 2013, 139(1), 266-272.
K. L. Foong, K. F. Lam, J. Barford, G. McKay, "A comparative study on selective adsorption of metal ions using aminated adsorbents", Journal of Colloidal and Interface Science, 2013, 395, 230-240.
M. Foerster, K. F. Lam, E. Sorensen, A. Gavriilidis, "In-situ monitoring of microfluidic distillation", Chemical Engineering Journal, 2013, 227, 13-21.
K. F. Lam, E. Cao, E. Sorensen, A. Gavriilidis, "Development of multistage distillation in a microfluidic chip", Lab-on-a-Chip 2011, 11, 1311-1317.