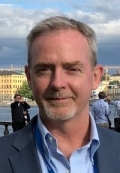 Davis BOOKHART

Adjunct Assistant Professor, Division of Environment and Sustainability
Senior Manager and Head, HKUST Sustainability Unit

Tel: (852) 3469 2206
Email: dbookhart@ust.hk
Office: Rm 2004A (Lift 4)

Biography
Davis Bookhart joined HKUST in August, 2013 as senior manager and Head of the university's Sustainability Unit to develop the university's first comprehensive sustainability master plan (the HKUST 2020 Sustainability Challenge), which has since been incorporated into the university's Five Year Strategic Plan. Focusing on the four key challenge areas – operations, education, demonstration, and community networks – Bookhart serves as the steward of the Plan's implementation. He serves as secretariat for the Sustainable Smart Campus as a Living Lab initiative, is Chair of the Task Force on Sustainability Progress within the HK Sustainable Campus Consortium, was appointed to the Environment and Sustainability Committee for the HK General Chamber of Commerce, and serves as Advisory Board member of the Association for the Advancement of Sustainability in Higher Education (AASHE).
Bookhart came to HKUST after eight years as the director of the Office of Sustainability at Johns Hopkins University. As founding director, Bookhart built the office to focus on integrating students and faculty into campus sustainability projects while embedding sustainability into campus operations, policies, and procedures. Before joining Johns Hopkins, Bookhart founded Charm21 – Clean and Healthy Air through Renewables in Maryland – a non-profit group advocating the use of renewable fuels in the Baltimore region, and was senior project director of the public interest group Consumer Energy Council of America. In 2008 Bookhart was appointed by the Baltimore Mayor Sheila Dixon to the city's Sustainability Commission. Bookhart holds a master's degree in International Affairs from the Fletcher School of Law and Diplomacy at Tufts University and a master's of American Literature from the University of North Carolina at Wilmington.

Bookhart teaches classes on sustainability management and sustainability thinking, both of which train aspiring students the skills and mental framework for solving complex problems in the 21st century.
Highlighted Publications
"Sustainability: Shifting Perceptions and Evolving Meanings," book chapter in The Sustainable University: New Goals and New Challenges for Higher Education Leaders, (April 2012).
"Institutionalizing Campus-Wide Sustainability: a Programmatic Approach" with Julie Newman (Yale) and Shana Weber (Princeton); (June 2009) Sustainability, Journal of Record.
"Strategies for Carbon Neutrality," (Feb 2008) Sustainability, Journal of Record.