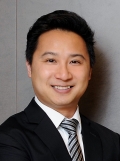 Calvin Lee KWAN
Ph.D.(2011), Environmental Science and Engineering, University of California at Los Angeles
Adjunct Associate Professor, Division of Environment and Sustainability

Email: clkwan@ust.hk
Office: Rm 4412 (lift 17/18)

Biography
Dr. Calvin Lee Kwan is currently an Adjunct Associate Professor for the Division of Environment and Sustainability. He is also the General Manager – Sustainability at The Link Management Company, where he heads up all of the company's corporate sustainability initiatives including corporate reporting, supply chain management, business operations and advocating corporate sustainability.
Prior to his appointment at The Link, Dr. Kwan was Campus Environmental & Sustainability Manager at The Hong Kong University of Science and Technology promoting sustainability awareness across various operations on campus.
He is an active committee member of several working groups including the United Nations Environment Programme Finance Initiative Property Working Group, the UN Global Compact – RICS Real Estate Sector Steering Committee and the Asia Pacific Real Estate Association Sustainability Committee.
Previously, Dr. Kwan has worked in major companies including Toyota Motors Engineering and Manufacturing, North America and Shell Oil Products, U.S, accumulating over 10 years of experience in emerging environmental risk management, energy efficiency, sustainability reporting and stakeholder engagement.
Dr. Kwan holds a Bachelor of Science in Business Administration and Biochemistry from the University of California, and a Master degree in Public Health and a Doctoral degree in Environmental Science and Engineering from the University of California, Los Angeles.
Research Area
Sustainable development challenges in business, influences of environmental policies on business strategy.
Research Interests
Dr. Kwan's research explores the relationship between sustainable development and corporate performance. He uses quantitative and qualitative methods to assess the impact of sustainable development challenges on business development, and investigates how environmental policies influence business strategy, performance and adoption of sustainable practices and in turn, how businesses can help shape sustainability policies.
Publications
Journal Articles
Lo, KY, Kwan, CL. Market response to environmental, social, governance and sustainability initiatives undertaken by listed companies in Hong Kong, Corporate Social Responsibility and Environmental Management [in review].
Kwan, CL, Influence of local environmental, social, economic and political variables on the spatial distribution of residential solar PV arrays across the United States, Energy Policy, Volume 47, August 2012, Pages 332-344.
Kwan, CL, Kwan, TJ. The financials of constructing a solar PV for net-zero energy operations on college campuses. Utilities Policy, Volume 19, Issue 4, December 2011, Pages 226-234.
Chan, CF, Chu SM, Cheng, MW, Kwan, CL. Green Initiatives for Construction Site – Tree Recycling Program", Conference Proceedings. The 9th Annual Seminar on "Smart & Green Building – Design, Construction & Management. Hong Kong, 2010.
Kwan, CL. The Inner Mongolia Autonomous Region: A major role in China's renewable energy future. Utilities Policy, Volume 18, Issue 1, March 2010, Pages 46-52.
Books and Book Chapters
Kwan, CL, Hoffmann, A. The Los Angeles Community College District: Establishing a net zero energy campus, Sustainable Communities Design Handbook: Green Engineering, Architecture and Technology, Elsevier Press, 2010
Kwan, CL. Rizhao: China's green beacon for sustainable Chinese cities, Sustainable Communities, Springer Press, 2009